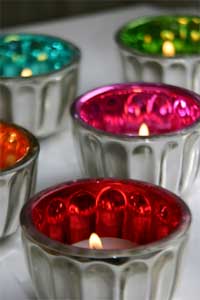 I'm often asked where one can buy the pretty coloured metallic tea light candle holders we featured back in 2006, as they're no longer available from Heal's. Sadly I've not been able to find exactly the same set again, but I've done some digging and come up with a range of alternatives for those of you who love the look.
Pictured here are coloured 'cupcake' tea light holders from lovely store Rockett St George. They come in a set of four and cost £9.99. You can also buy a very similar set of six for £12.95 from Amazon
or blendboutique.
Continue reading below for more brightly-coloured metallic candle holders...
Continue reading "Coloured and metallic tea light candle holders" »