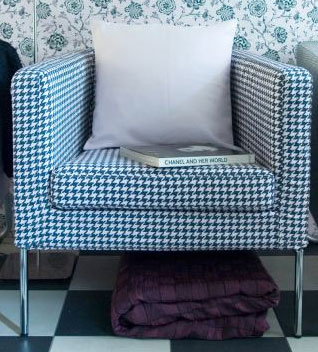 What a clever idea! Bemz is a Swedish company that creates custom slipcovers for your Ikea sofas and armchairs. Trading on the idea that customers might want a different look for their low-priced furniture, Bemz is the only company outside Ikea that makes fabric covers specifically designed for the Ikea range of furniture.
Whether you're looking to update an older piece or are planning a new Ikea purchase, you can browse through the Bemz range to choose a more unique look, safe in the knowledge that your new cover will fit your Ikea furniture exactly. On browsing, I'm also reminded by the site that I can order a 'nude' item from Ikea - that is, one without a coloured cover at all, if I want only a Bemz cover. Register at the site and you can order up to five fabric samples free so you can get a better idea of how the material will look in your home.
The 'Hounds Tooth - dusty rose' from the 'Bohemian Chic' range (above), and the 'Urban Tapestry - real red' and 'Sprezzatura - orange' from the 'Downtown' range (below), have particularly caught my eye, but there are loads to choose from. Prices start from about £20 for a dining chair cover, and they'll also make you cushions to match (or contrast) from around £12.
I just love companies that take something old and make it new again - creating new and interesting products out of utter ubiquity!