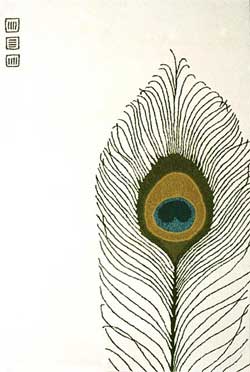 Today Lovely Things is supporting Blog Action Day 2008 by writing about this year's chosen theme of poverty in the context of our homes and interiors focus. (If you're a blogger and would also like to get involved in Blog Action Day today, visit their site.)
Ensuring the products we buy are fairly-traded and made by people working in appropriate conditions can be difficult at times - retailers often aren't able to tell us much about where the product came from and who made it. That's why organisations like the RugMark Foundation help us as consumers to make better choices when we come to parting with our cash for home accessories.
RugMark is an international campaign dedicated to stamping out illegal and exploitative child labour in carpet and rug weaving factories in South Asia. Nearly 300,000 South Asian children, driven by poverty or kidnapped and sold into slavery, are being exploited in the handmade carpet industry. Kids as young as four are made to work in dangerous conditions in factories or loom sheds and can be further trafficked into the sex industry.

Since 1995 RugMark has worked to free 3000 children from this exploitation and runs accommodation, rehabilitation and education programmes to offer these children new opportunities in their lives. The organisation is funded by RugMark-certified rug sales and donations so it can make a real difference in the lives of children who've been forced to make a living in shocking conditions.
When you buy an imported rug, look for the certified and numbered RugMark label on the back. Not only does this number ensure no children were exploited in the manufacture of the rug and that the label is genuine, you can also trace the origin of your rug to learn about the area, craft process and the programmes in weaving communities that your purchase will support.
Visit the international RugMark site, RugMark UK, or find your country's RugMark site to read more about campaigns and programmes and for a list of retailers stocking Rugmark products.

Image shown is of a RugMark certified rug made in India. 'Quintessence' features a peacock feather design and is available from Wovenground in black or cream (shown), and starts at £256 for a 120 x 180cm pure wool handtufted rug. [21/10/08 This has been edited as it came to our attention that the previously featured rug was not certified by RugMark].