Not a fan of the traditional red, green, gold and silver for your holiday decorations? Why not try blue this year. As elsewhere in the homewares and fashion worlds this season, blue is a really popular colour choice with lots of items available in gorgeous shades of teal and turquoise. Here's a few of my top picks...
Habitat is always a goldmine when looking for non-traditional decorations and this year they have a distinctly glamorous feel. Left to right: 'Dew' chandelier drop £2, 'Lux' sequinned bauble £3, 'Palace' onion-shaped bauble £2 (for the small size).

Also from Habitat, left to right: 'Brush' snowflake-painted bauble £4, 'Goose' feather bauble £4, 'Aksel' beaded bauble £3. Unfortunately, as they have a rather annoying Flash site, I can't link directly to the products, so you'll need to navigate to the Christmas section through the site.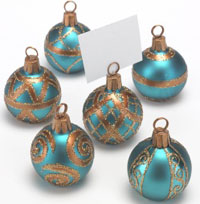 These teal and copper bauble placecard holders are a really sweet idea. Use them to show your guests where to sit, or hang them from your tree. The teal and copper are a really pretty colour combination - traditionally festive, but a little bit different. £8 for a set of six from the Pier.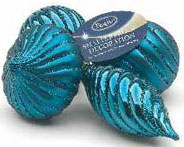 This pack of four assorted peacock blue baubles comes from Christmas Tree Land at the bargain price of £1.99. Each pack contains two matte and two shiny decorations, accented with glitter and hung on gold string. At that price you could make a real statement by decorating en masse.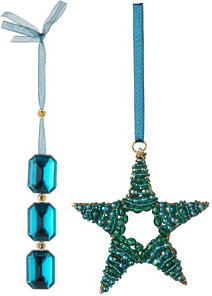 I absolutely adore these jewel drop decorations from John Lewis. They're a very pretty deco style hanging from an organza ribbon and also come in yellow topaz and purple for £5. Complementing the drops are these beaded stars - also very lovely with teal glass beads adorning woven gold wire. They're £7.50 each and are bigger than they look at 10 x 10cm.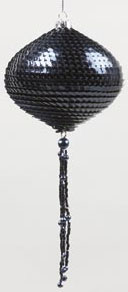 It looks black in the picture, but it's actually a midnight blue sequinned bauble and is an elegant onion shape with a lovely long beaded tassle. A complete bargain at £2.50 from Marks & Spencer, plus they're offering 3-for-2 on many of their Christmas products.
So many beautiful decorations, now to pick a favourite...