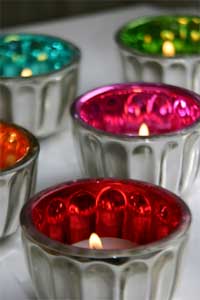 I'm often asked where one can buy the pretty coloured metallic tea light candle holders we featured back in 2006, as they're no longer available from Heal's. Sadly I've not been able to find exactly the same set again, but I've done some digging and come up with a range of alternatives for those of you who love the look.
Pictured here are coloured 'cupcake' tea light holders from lovely store Rockett St George. They come in a set of four and cost £9.99. You can also buy a very similar set of six for £12.95 from Amazon
or blendboutique.
Continue reading below for more brightly-coloured metallic candle holders...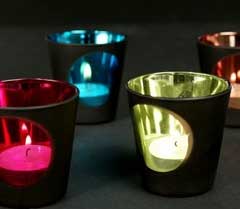 Blendboutique also stocks the coloured mirror 'mocha' holders at £7.95 (I'm assuming for the set of four in green, red, blue and bronze - shown left), and this set of nine blue mirrored glass tea light holders on a mirrored plate for £15.95.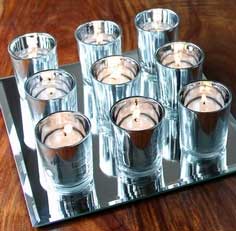 Closest to the candle holders featured in the original article is this set of hanging holders from the Orchard that are very similar (below). The set of six is £12 and colours included are gold, red, green, blue, fuschia pink and purple, with silver mirrored glass outers.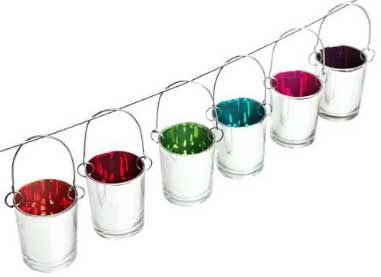 The Orchard also sell a set of four mercury glass votives with a scalloped edge for £19, shown below.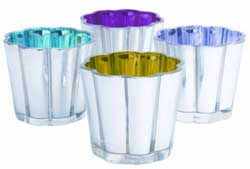 Lastly, here's a few that have the colour on the outside, with the silver mirrored glass on the inside (pictured below). The top two in green and red are from John Lewis and are £3 each.
If you're after a cheaper option you can't go past these brightly-coloured votives from Northern Lights (to find them on their rather basic website, go to Candle shop > Holders > Votive Holders, and scroll about a third of the way down the page). They're cheap as chips at just £1. They don't say whether that's each or for a set of three, but my guess is that's the individual price.