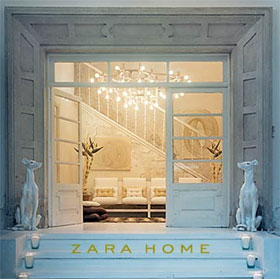 Our posts on Zara Home are some of the most popular of this blog, and the one showing images from the Zara Home catalogue for Autumn/Winter is still going strong. But as we've been enjoying quite a bit of sunshine lately, it's about time we take a look at the Spring/Summer 2007 pictures.
This season is all about white, though still retaining the shabby chic/crumbling opulence influence that we saw last season. Some of the images look a little more 'Winter white' than summery, but the overall effect is very glamorous and looks like it would keep you very cool on a hot summer's day.
There were so many lovely pages in the catalogue that I had real trouble choosing just a few to show you, so click on the link below to feast your eyes on quite a handful of drool-eliciting rooms...