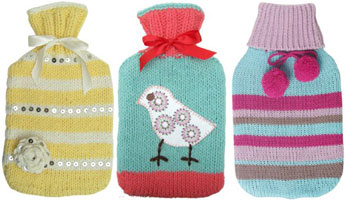 For the chronically disorganised among us, the fact that today is the last day for shipping from many online stores ushers in a strong sense of panic. One of the things I love about buying from ebay is that often you're buying from an individual - an individual who understands your need to have something posted out quickly using next-day postage. There are some very cute hot water bottle covers around at the moment, and it's a lovely gift for someone who really feels the cold in the winter months. Details via the link...
Above, from left: yellow striped cover with sequins (£14.99), coral and aqua bird cover (£14.99), pink and blue striped (£9.99).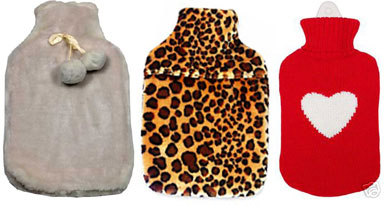 From left: grey faux fur with pom-poms (£4.99), leopard print (£7), red with white heart (£7.99).
Related: Gift Guide: £10 and Under | Gift Guide: £20 and Under | Unusual Gifts: Torrini Champagne Stirrer