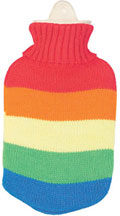 Still Christmas shopping and need a few ideas for inexpensive gifts? Here's our gift guide to presents £10 and under...
Who can resist snuggling up with a hot water bottle on a chilly night? Especially when your bottle has its own woolly jumper! This rainbow-coloured, roll-neck hot water bottle cover comes with a standard size 750ml hot water bottle inside and costs just £9.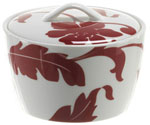 The 'Damask' range of crockery from Marks & Spencer has a really stylish design and is also dishwasher, microwave and freezer safe. Not that you're likely to want to put this sugar bowl in the freezer, but hey, your kitchen, your rules! Unfortunately much of the red colourway is sold out online (check in-store), but it also comes in a black and white mix. The sugar bowl is £9.50.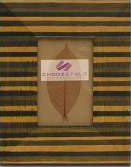 This great looking photo frame is just £6 and is inlaid with four different colours of wood for a striped effect. It fits a 6 x 4 photo.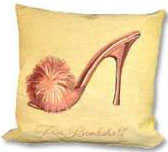 Indulge someone's girly side (or shoe fetish) with this 'Tres Bombshell' pink shoe cushion from the 'Diva' range at Choozstyle (£10).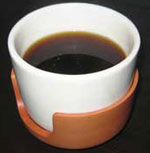 This coffee cup is so simple and elegant it's making me come over all minimalist (very unlike me!). It has a detachable wooden base that insulates your drink and, I'd imagine, also saves burning your fingers. It's made by KD two and available from Useful Art for £8.95 (with free UK delivery).