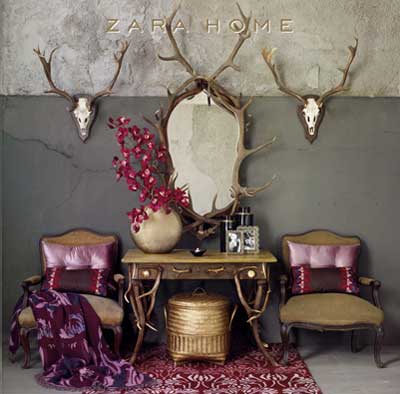 We wanted to show you some of the great looks from the Zara Home Autumn/Winter 2008/09 catalogue as I know Lovely Things readers are always keen to see what's new and to get some great decorating ideas for your own homes.
There's a fresher feeling this season than you'd often expect for A/W looks which is really modern and autumnal, in opposition to the 'cuddly' feel we often see for winter. The setting in a huge warehouse space is luscious (makes me want to live without walls!), with an open, airy feel for some shots, and a tucked-away secret delight with others.
As always, Zara gives us a variety of options in their look book, from eclectic colour and retro-modern to a touch of chinoiserie and traditional romance. As is my favourite thing about this time of year, we see delicious colours with deep jewel tones, plus some fresher palettes such as light blue with tan and neutrals.
Continue reading below for more images from the gorgeous Zara Home A/W catalogue...