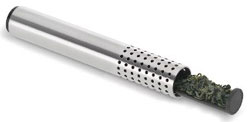 These two great products from Amode would make great gifts (particularly good housewarming pressies I reckon), but I have to say, I'm more of a mind to buy them as treats for myself...
I love the idea of this 'Tea Stick' from Utilo (£12.95). If you're a traditionalist who can't abide the words 'tea' and 'bag' in the same sentence, it's perfect for making just one cup without the fuss of a teapot. It won't be available until mid-August but you can pre-order now.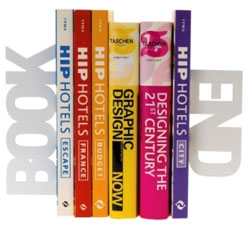 Looking for modern book ends? This pair are certainly self-explanatory! They're £16.99 and available now.
Thanks to the very generous Helen at Amode, they're currently offering a 10% discount on all products just for Lovely Things readers for the entire month of August. The coupon code is LOVELY08 and is valid when you visit the Amode.co.uk site until 31/08/08.