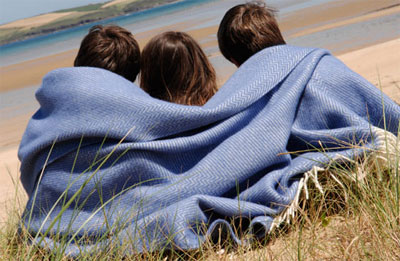 When we live in a country with summers as unpredictable and un-sunny as England's it's criminal to write what I'm about to write: I can't wait til autumn! Okay, well maybe that's overdoing it a bit, but you see, I've been so inspired by the beautiful blankets and throws at the Atlantic Blanket Company's website, that the thought of snuggling up against the chill suddenly doesn't seem like such a bad idea.
As well as a lovely array of woolly cosiness, I'm impressed with the clean, simple look of the site, the beautiful photography and customer-friendly design. Read below for a very special discount code for Lovely Things readers.
Now comes the difficult part - trying to decide which products are my favourites that I just have to show you. Here goes...
Above is the very beautiful 'Kattefot' blanket from Norway and I'm totally captivated by the idea of sitting on a beach cuddled up in this blanket as the picture shows. Shown here in lavender blue, it's 100% wool, costs £88 and also comes in cream, dark brown and dark grey (another favourite!).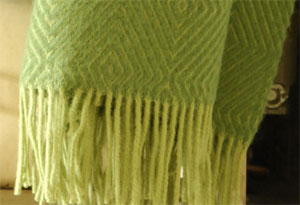 A splash of bright green from the 'Hegg' Norwegian blanket, 100% wool, £90 and also available in vibrant red and a gorgeous petrol blue.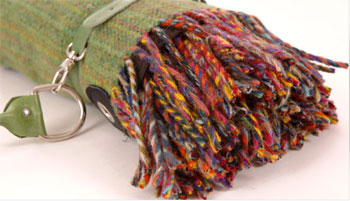 This fabulously fun fringed picnic rug is made from 100% Welsh wool and comes with with an attractive and useful leather carrying strap, plus a separate ground sheet and costs £70. (Make sure you click on 'more images' to see a rather inspiring shot looking out to sea). Shown in green, it also comes in red and blue.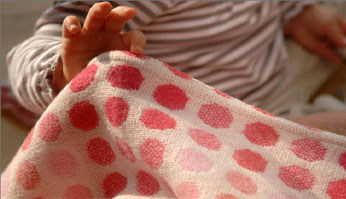 I'm a huge fan of the Melin Tregwynt blankets from Wales and you can see why with this lovely 'Mondo' spot pattern in varied pinks. This baby pram blanket is 100% lambswool and costs £32.
Okay, I'm going to stop now before I get totally carried away! The lovely Jo at Atlantic has offered 10% off for Lovely Things readers if you register on the Atlantic Blanket website and then enter promotional code: LT0110 at the checkout. Get snuggling!