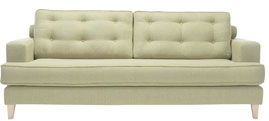 Okay, it's official. I'm in love with a sofa...
Unsurprisingly it's green (yes, I'm still in the midst of a green thing), and I really love the modern take on 50s style and the sweet buttoned back. The 'Mistral' from Heal's at £1795 for the small sofa isn't exactly in the cheap and cheerful category, but I'm a sucker for a bit of understated retro glam.
It also looks comfy, which is foremost for me in terms of sofa-love. So I think it's time to meet in person so I can stroke its lovely arms, pat its lovely seat and decide if it's true love and I want to snuggle together forever, or just a passing infatuation brought on by good looks.