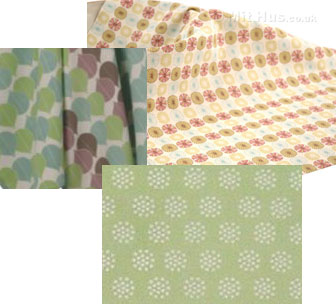 In my new flat I have a brand new kitchen, and so I don't want to spoil it with old tea-towels that, frankly, have seen better days. So I'm on a tea-towel mission at the moment and want something pretty but a bit different to the usual range of kitchen-themed motifs. The three towels above all have lovely subdued colouring and interesting patterns (and lots of green, which, as you know, is my colour of the moment), and look lovely and fresh for summer. Read on to find out more...
Clockwise from left: the 'Droplet' range of kitchen textiles is from Habitat and is a 50/50 mix of cotton and linen and tea-towels measure 55 x 75cm. A pack of three tea-towels is £12.
'Paris Daisy' tea-towel is from one of my current favourite online homeware stores, Mit Hus (I recently wrote about their lovely green and white cup and saucer). The print is very sweet, and the fresh colours and geometric effect of the design keep it from being twee. Made from 100% cotton, each tea-towel will set you back just £2.95.
This simple green-with-white 'Lime Clusters' tea-towel is cotton and available from Amazon for the rather odd price of £5.06.