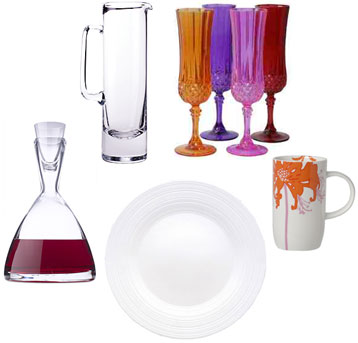 Ah yes, the wedding season is upon us. While many brides and grooms opt for a wedding registry or gift list, some rather you give them a gift chosen by you. It can be really tricky finding something appropriate, without breaking the bank, so here's a quick look at five great glassware and tableware gifts for £30 and under.
Clockwise from left: Beautifully-shaped 'Hour Glass' decanter, £28. 'Boris' eight litre glass drinks jug, £27. Bright Longchamp 'Folie' lead crystal champagne flutes, £30 for a set of four. 'Honeysuckle' Flora bone china mug, £10 each. Jaser Conran embossed bone china charger/platter, £30.
All available from Heal's.