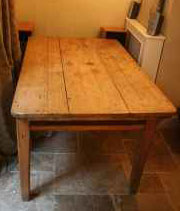 We've had eBay roundups on Lovely Things before, and when I was noodling around on Craigslist today, I saw a few items worth mentioning in the furniture listings. I actually rather want all these items myself, but as I've recently moved, I'm trying to shed furniture, instead of buying new pieces, so best I share these finds with you!
I'm a big fan of chunky rustic tables, and this French country-style wooden table is a great price at just £150. The honey colour and the big wide planks are very attractive, and it would make a lovely kitchen table if you have the room. Collect from Notting Hill, London.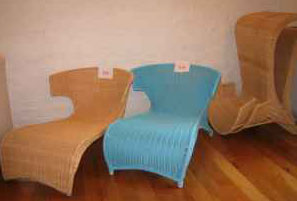 These great wicker chairs are a completely bargainous £10 each! There's currently only three left, and you can use them as indoor or outdoor chairs. Collect from Covent Garden, London.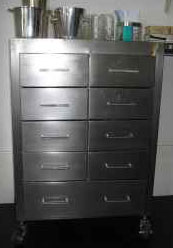 Lastly, a more industrial feel with this great vintage stainless steel medical drawer unit. I think it'd make a great piece of office furniture, or would make itself very useful in the kitchen (for storage - I'm not suggesting it cooks a mean risotto). The seller's asking £200, though will consider offers, and it must be picked up from Clapham North, London by 7th June.