Ever felt sick of your boring old white appliances? Fancy a bit of retro girly fun in the kitchen (steady now - I'm talking about the innocent kind, not something involving Vargas girls and utensils)?
Various manufacturers have cottoned on to the fact that rather than hiding appliances when decorating, some of us like to have fun with them instead. Here's a round-up of appliances to satisfy your pink cravings...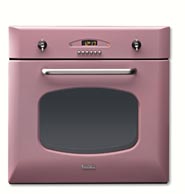 Check out this 50s style oven by Baumatic. It's 60cms, has nine functions, a load of features and comes with optional extras like a pizza stone. Best of all, it's rated A for efficiency and you have the choice of black, mint, ivory, burgundy and lilac on top of this fabulous retro pink. It's £419.28 from Biasco. Update 10/12/06 - unfortunately, according to the Baumatic website, this line has been discontinued. What a shame! If you love it, search for retailers with some still in stock using the product code: B550PINK-A. Try Sainsbury's or Appliance Directory as they still seem to have some.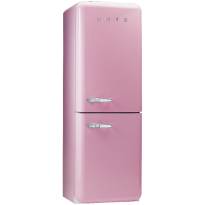 Smeg does a range of pink fridges and other appliances in their FAB range. The one shown here has an A grade energy rating, 3.6 cubic feet of freezer space and 11.6 in the fridge and the trays and door racks are all adjustable. The best price for this model (the FAB32RO4) I've found is at Biasco - £1104.95 with free delivery.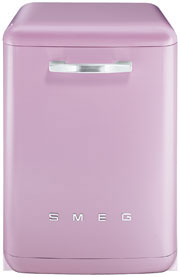 The same online store also stocks the very cute Smeg 50s style dishwasher. It's AAA rated, has 10 programmes, 5 temperatures, a delay timer and 'triple layer tablet selector', whatever that is. If pink's not your thing, it comes in quite a range of other colours: pastel blue, black, orange, cream, red, lime green and silver. It's £619.95 with free delivery.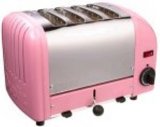 So now you have your major appliances sorted, what about the smaller things? Dualit has a range of very pink toasters to satisfy even the most feminine of kitchens. The Dualit Vario toaster
accommodates four slices of bread in its extra-wide slots and claims award-winning toasting elements that 'increase toasting efficiency and element longevity' - sounds like the science of toasting has come a long way! You can buy it at Amazon for £129.97 plus free delivery.