Inspired by the gorgeous weather of the last few days, I'm finally beginning to feel convinced that summer is indeed on its way. So too is Father's Day, 18th June in the UK.
So, with that in mind, how about a BBQ for Dad? Here's a few suggestions depending on the style of Dad you have:
Serious BBQ Dad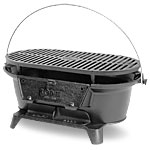 Is your Dad the type who'll never let anyone else near the BBQ lest they mess up his cooking perfection? Traditionalists will appreciate the utimate in hibachi-style grills with this cast iron Lodge Grill (£129).
As cast iron really retains the heat, the grill helps you to cook food thoroughly to create that great BBQ flavour, with none of those crispy-on-the-outside, raw-on-the-inside disasters.
Whatever you do though, don't drop it on your foot as cast iron weighs a ton!
Active Dad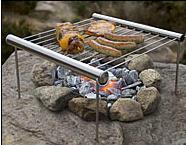 Hiking, fishing, camping - if your Dad's one who likes to get into the great outdoors, he'll appreciate this teeny portable BBQ, inventively named the Grilliput (£24.99).
Not only does this BBQ fold up to next to nothing for carrying, it's also dishwasher safe, and even has a cleaning groove notched into it so you can scrape it off after cooking before you put it away in its tube.
Gadget Dad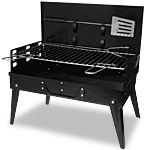 For the Dad who fancies himself as a barbecuing James Bond (now there's an odd thought), how about the BBQ that turns into a briefcase?
The Picnic BBQ Grill (£19.95) offers a good size cooking area, that folds completely away for storage. You can set the brill to three different heights, and the lid becomes a windbreak.
A nifty feature is the fork and spatula that are included in the price, and clip into the top, when not in use.
Accessories
A gift suitable for any BBQ Dad, try the Grillslinger.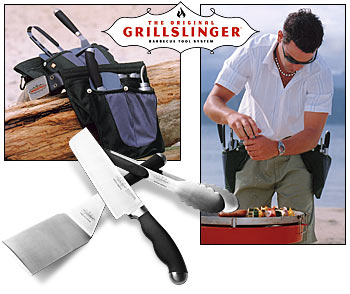 Designed by two of New Zealand's top chefs, the tool belt comes with tongs, a spatula and knife, a bottle for oil, and room for salt and pepper shakers. Oh, and an instructional DVD for those who need...er...buckling information perhaps?
At £59.99 this tool belt of cooking implements is pricier than some of the BBQs featured, but comes with the added bonus of making your Dad feel like John Wayne, and who can put a price on that?
All available from I Want One of Those.