Want a quirky doormat? Feet First have created mats in the style of sewer/manhole covers from major cities in the US and Europe.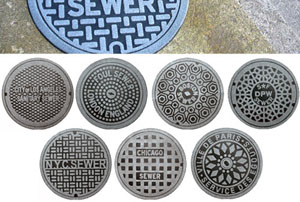 If you're in the US you can choose from London, Paris, New York, Boston, Chicago, San Francisco or Los Angeles at Perpetual Kid. Those in the UK can buy from I Want One of Those and are limited to London or New York.
What's great about these mats is they're made from 100% recycled truck tyres, are hard-wearing and easy to keep clean.
(Thanks to A Rug Fantastic for the heads-up)