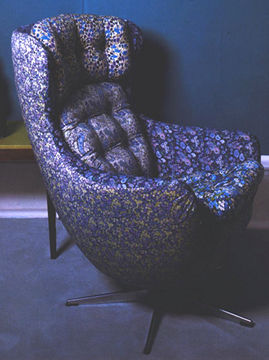 If you're a fan of eclectic furniture, check out the fabulous designs of Aiveen Daly. Her quirky handmade chairs have a wonderful sense of vintage style - with a twist.

I love the retro 'Swivel' above, a piece commissioned by Liberty and Elle Deco covered in Liberty shirt fabrics, and the detail of the tiny buttons on the 'Bubble gum' pink denim Victorian chair (£545 plus fabric).
However, I don't know if I can really pick a favourite as her designs are quite diverse, and all gorgeous. Shown below are Spank, Blossom, Puff and Moneypenny ranging from £495 to £2975, plus fabric.